Architects, Decorators, Restaurateurs, Boutique-Hotels
Réalisation : the three dots agency

You have imagined, designed and arranged a place, a house, a flat, a visual identity, a mark that reflects your personality or that of your client..

You have defined a style, colours, chosen noble materials to dress the space, create harmony and give life to a memorable sensorial experience. You aspire to beauty and elegance.

You are looking for exception, alchemy and the vibration of an intense emotion.

You give life to a soul, to a magical place.
Spirit of Glass & Art By F.
Exceptional creations, made of brilliance and relief, of living and moving materials through glass. An art craft mixing the colors gold silver, ruby emerald, blue … or the iridiscence and reflections of light creates an emotion constantly renewed.

Each unique piece has the values of Glass & Art By F.: authenticity, magic, evasion, dream, surprise, wonder, warmth, movement, which contribute to the creation of an alchemy of universal sensations.

The tops are removable and reversible, which allows you to discover other shades of color that subtly give a new face to your table and sublimate the structure of the table.

Your creations must transport and inspire amazement with an identity and atmosphere specific to each place.

You give life to a soul, to a magical place, with a dazzling architecture, by unique pieces sometimes, luminous, made of noble materials, craftsmanship in a spirit of modernity, luxury and simplicity.

These spaces must be for your customers a true artistic escapade, a vibrant experience, a meeting where the impulse of renewal passes by the audacity and the elegance of colors and materials.
STRONG OPERATIONAL OBJECTIVES
The choice of your decorating partners integrates the possible accidents related to the clientele and thus to have the possibility of quickly replacing any element of furniture in order to maintain the quality of the services of these establishments.

You know that the replacement of a unique or handcrafted piece can take some time.

You need to source decorative elements that are durable, beautiful, noble and timeless.
A service that meets your requirements
All our creations are made of tempered glass, resistant to shocks, to big temperature variations
that can reach 200°C.

Within 15 days Glass & Art by F. will make a replacement piece (table top, painting).
Unique and personalized works
Handling with precision the textures and the various spatial and luminous constraints, I adapt each
Glass & Art by F. creation to the most demanding specifications.
Eco-responsible materials.
All of these materials, fibers and flakes are durable, biodegradable and water soluble. They respect the environment. They do not contain Formaldehyde (carcinogenic substance).
They are ecological P fibers.
---
GASTRONOMIC RESTAURATEURS
"Cooking is a bit like cinema. It's the emotion that counts."

Anne Sophie Pic
You are looking to astonish the eye and the taste buds of your visitors with gourmet food by staging dishes that awaken the 5 senses with subtle and harmonious colors while creating a true artistic atmosphere, made of discoveries of flavors, unexplored horizons, dreams…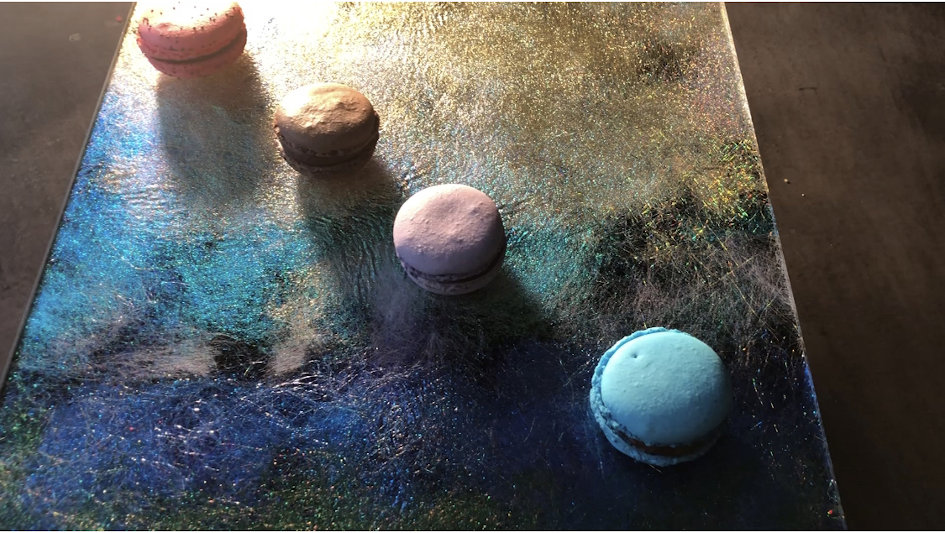 To awaken the senses and the imagination…
In this spirit, I propose personalized supports, unique pieces where the play of light captivates the eyes and highlights your creations.

The presentation and the art of the table are honored, because the emotion is essential.

I offer you a visual experience, a touch of magic, poetry to your gustatory creations in order to mark the spirit of the culinary arts lovers..
A decoration in harmony with the culinary style.
Realization of a piece (table, paintings…) in symbiosis with the concept of decoration, putting your cooking at the heart of an unforgettable experience that will develop and retain your customer base.
The atmosphere, the setting
You select a decor in harmony with your project, elegant, comfortable in natural, noble and resistant materials.

Of course, in compliance with the C.H.R. standards, the furniture, accessories, tableware and lighting proposed respect the fire safety standards.
Everlasting effect of surprise
Extreme reactivity to the light of key colors: Gold, Silver, Ruby, Emerald, Blue. All works and creations are made of tempered glass, resistant to shocks.

Your luxury design with unique character is expanding in the world. In search of your own identity; your quest is to decorate your establishments by distinguishing yourself not only by a singular architecture but with one that tells a story. You prefer to leave standardization behind and give your customers an incomparable experience.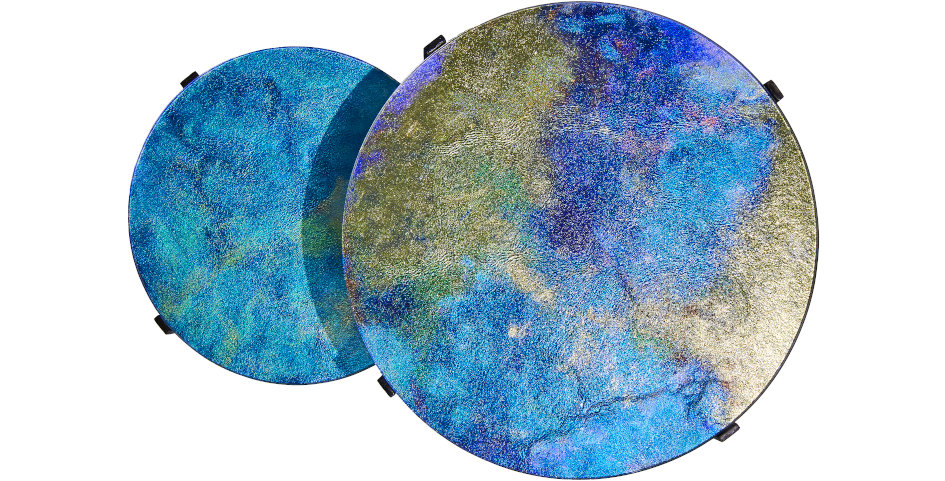 An emotional experience
Unique works, useful works, works of art to live, Glass & Art ByF.!

The creations I realize for you are unique, singular, vibrant. When you move, they invite you to change your look, and reveal themselves in their beauty, in the movement and in the light.

Powerful and timeless, they capture you, inspire you to dream and travel.
Glass & Art by F. – unique and personalized pieces
Exceptional pieces, an alchemy of sensation, vibrant and shifting materials through glass
adapted to the request.

Get in touch with us